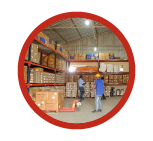 Warehousing
We offer reliable warehousing services for our clients, ensuring that their goods are safely stored and carefully tended to. Meeting both private and commercial consignments, our network of warehouses enables us to tend to our customers regardless of where in India they reside. Our warehousing services are available in Chennai, Delhi, Bangalore, Manesar, Gurgaon, Rudrapur, Pune, Jamshedpur, Madurai, Hosur, Tirupur and Coimbatore.
The strategic location of our warehouses optimizes the timely deliveries. It is well known that time is money, and our aim is to produce benefit for our client through business optimization.Our warehouses are well-maintained, following the highest safety standards of the industry. Fumigation is done on a regular basis, preventing pest growth or infestation.
Our services are distinguished by sharing the personal touch with professional approach to business.
We use high quality technological devices, storage systems, racks, power stackers, overhead cranes, forklifts, and trolleys in the process of loading and unloading of heavy goods
All precautionary measures are taken to protect your goods from fire, wind, water and other natural hazards
Excellent infrastructure: our warehouses have 6-inch industrial flooring and the height of 25 feet
Highly trained personnel able to handle any type of cargo
Use of robust online ERP solutions for warehouse operations
Furthermore, you can:
Follow your goods online via Web & Mobile apps.
Receive E-mail and SMS alerts on goods dispatched.
Prepare invoices for your customers.

24/7 Services