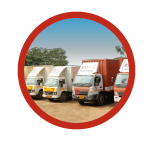 Transportation
Each of the services we offer are the result of meticulous planning, ensuring the optimal result for our clients. Every BSL Company procedure represents a series of carefully planned steps executed by skilled members of our staff. We have four platforms for various types of vehicles we use, such as LCV, MCV, FTL and Tarrus. Our staff is comprised of full time, non-contracted BSL employees, available around the clock – meaning the company is able to provide three rotated shifts, each day of the week.
We have dedicated area for our staff as well as dedicated driver areas, separated from standard warehousing facilities. Our parking space can allocate more than 60 trucks. There is also a workshop area where we conduct regular maintenance work for our vehicles, undergo repairs and monitor them during loading and unloading of goods.
These measures ensure that nothing is left to chance – each step in our supply chain is strengthened by sophisticated procedures and every contingency is met head-on.

24/7 Services